A question was posed to me the other day about securing your home which I found interesting….Who has keys to your home?
Do you know who has keys to your home? I'll be honest with you I had NO idea who had a key to my house. We moved there in August. We don't know our neighbors that well. It could be that the guy down the street has a key to my house because he used to feed the dog of the prior residents.
It could be that some cleaning service that I'm unaware of has a key to my house. MY HOUSE.  The house where my family 'hangs their hat', where our 12-year-old houses her most prized possessions along with myself and my husband. Fact, some stranger COULD have keys to my home. That's a bit of an unsettling feeling if you ask me.
When I think more about this, I wonder, well, why don't we get on it! It's inexpensive peace of mind to re-key and a professional locksmith can do this for me quickly,easily and based on my doors, maybe even with the ability to have everything keyed to one key for each door. Now, if someone has a key to my home it's because the choice has been made for ME to give that person a key.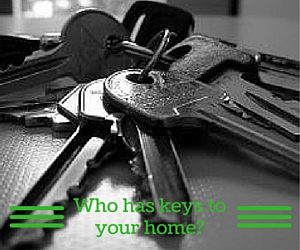 According to the FBI, most break-ins occur while people are at work or school. Entry is typically attempted from the side or back of the home. Additionally, Around 60 percent of burglars used forcible entry to gain access to a home. A surprising 30 percent entered home through an unlocked door, window or other opening without resorting to force.
I took the liberty of reaching out to our local locksmith the other day to gain some insight about home protection.  Take a look at how that went!
My Security Survey:
Doug King of Lightning Lock Service came to my home and provided a Security Survey, which was enlightening to say the least. In a matter of minutes, while I was inside my home, most of all, safe and secure, so I thought!
Consequently, Doug was able to gain access through almost every one of my door entrances in my home. LOCKED entrances. With normal, easy to access tools, he was able to make the deadbolt open, he was able to lift just enough on one of my sliding glass doors to make it wide open, and let's not even discuss the "doggie door"! Yeah…those aren't safe, if you weren't sure!
Luckily, Doug was able to make a few recommendations and some quick fixes to our doors to make us more secure. I was clueless that it really matters how that catch piece on the other side of the door is mounted!  I thought if it was lined up, it was good to go!  Not So Much!
What else is there to know?
When I asked Doug about electronic entry—he told me that the electronic keypads for garage doors, great (the ones you punch in a code to get into your garage from outside), but in Florida on front doors, because of weather if you choose the electronic coded locks, you need a key bypass because of our weather, sometimes these do not always work. Additionally, they should be on your deadbolt, not your bottom door handle lock.
Doug indicated as well "Anything that advocates people to proactively secure your home is not a bad thing."
It blows my mind that people don't lock their doors, but we hear it all the time, every day people feel like they live in safe neighborhoods and don't need to do anything.  In addition, more and more I read on social media how people will leave their garage door open while doing yard work in their back yard and someone stole a bicycle or tools or something.
According to the FBI, the average dollar loss per burglary in the U.S. is $2,185.   When you couple the victim's losses with criminal justice expenditures, a typical home invasion is estimated to cost nearly $20,000.  CRAZY!
The Bureau of Justice Statistics Special Report states that a household member was home in approximately 28 percent of burglaries. Alarmingly, a household member suffered some form of violence in seven percent of burglaries. Unfortunately, burglaries are infamously hard to solve. Frighteningly, on average, only about 13 percent of burglaries are cleared by police.  Recovering victim's property is even less likely to happen.
In closing, there are SIMPLE ways to protect yourself! We suggest getting a security survey by a local licensed, professional locksmith to begin securing your home today.
Finally, If you are our client, we have a discount coupon for Doug's services, along with a free security survey.  Please let me know if you'd like me to send it to you!  If you have an alarm system, or plan on obtaining a monitored alarm system, get your insurance agent a copy of the alarm monitoring certificate.  There's a discount, you deserve it!